Focusing on Best-In-Class Customer Experience and Excellence in Execution
Ernesto, you've been the CEO of Clariant for a few months now. What are some of your first impressions?
Clariant is an excellent company with great people. The company is run well and has some exceptional technologies. It has a lot of potential in creating value for our customers. And I think we're on the right path to become one of the fastest and most reliable suppliers in our field and a true world leader in high-value specialty chemicals.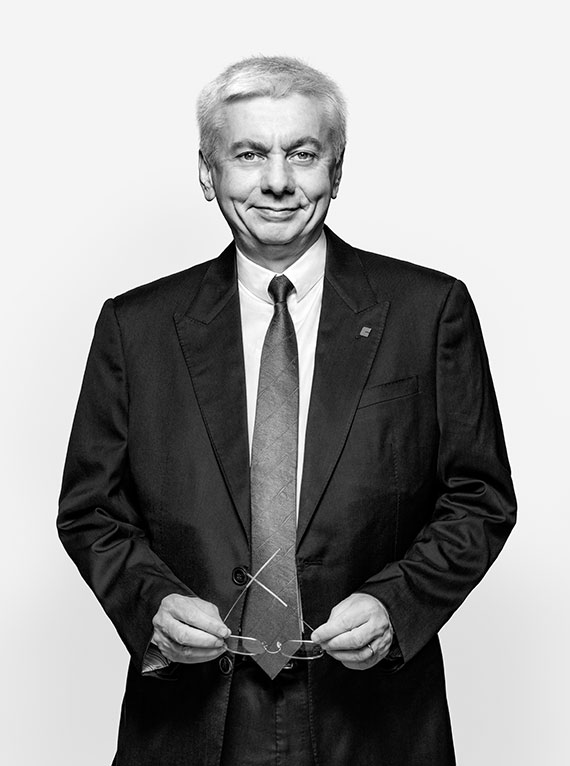 2018 was another intense year for Clariant with the entry of a new shareholder and the announcement of a strategy update. What is your view on this?
First of all, we delivered on our promise. Business was good with sales increasing 5% and an improved absolute EBITDA before exceptional items of more than one billion Swiss francs. Considering the state of the global economy, which softened towards the end of the year, that alone is a positive sign. Some of our businesses that are closer to the consumer have shown significant increases of sales and profitability, which is a remarkably good outcome. But the clearest evidence of what a good job the people at Clariant are doing is the operating cash flow. Its increase of 24% is a real step change from previous years. However, we mustn't rest on our laurels. We aim high: We want to position ourselves in the top quartile of the high-value specialty chemical industry. And we want to be the best in what we do. To that end, with SABIC's entry as a new anchor shareholder and our announcement of the creation of a new Business Area High Performance Materials, 2018 saw two strategic milestones on this journey.
What are the next steps in terms of divestments?
We have already started to carve out Pigments, Standard Masterbatches, and Healthcare Packaging from the former Plastics & Coatings Business Area. I am very confident about their sale, which we hope to complete by 2020.
What will change with Clariant's transformation?
Everybody likes to see a new CEO put a different spin on how things are done. But Clariant is in good shape. That's why we will continue to execute our proven five-pillar strategy and to focus on innovation and R&D, which is key for our continued product differentiation and customer specification. We will also keep creating value by commercializing the sustainability needs of our customers, for example, by delivering more renewable and eco-friendly products. However, we'll remain open to bolt-on acquisitions in order to reposition our portfolio and open to taking additional transformative steps whenever appropriate. Part of our transformation is to further strengthen our profitability and improve our cash generation. Good cash management is a prerequisite for us to invest in growth. Another thing we'll continue is our Clariant Excellence initiative with an even stronger focus on operational efficiency and excellence in execution.
You seem to focus very much on customer needs...
Yes, we need to better align our application development and our products with the needs of our customers. Our customers should rely on us to get the fastest and most reliable customer fullfilment in the industry. In other words: we want to create the best possible customer experience and we want to maximize their success. This will help in both retaining existing customers and attracting new ones.
Where do you see potential for further growth?
The most successful companies rely on their core strengths. We have to make sure that our portfolio addresses the upcoming challenges, technology opportunities, and consumer demands – including their appetite for more convenience, safety, health, and resource efficiency. Our new Business Area High Performance Materials can deliver solutions for the increasing digitalization in many industries, like the fast-growing market for smart electronics and appliances. And our other businesses, like Care Chemicals, Catalysis, and Natural Resources, serve rising customer needs in safety and health – with anything from halogen-free flame retardants to natural, ethical, and sustainable ingredients for personal care products.
Clariant is known as a leader in sustainability. How important is it to you?
Sustainability is the core of our strategy. We need to ensure that we address environmental, economic, and societal needs in order to compete. If you can run your business using fewer resources than others or if you find ways to reduce your environmental impact, you're very likely to be rewarded – by your customers, your shareholders, and society in general. Our catalysts are a great example. As the International Council of Chemical Associations put it, catalysts are the best way to significantly improve the energy efficiency of chemical processes.
What are your personal expectations for Clariant and the way forward?
Everybody knows that I don't talk too much. I prefer to let results speak for themselves. We have an experienced and dedicated leadership team, a lot of great talent and hardworking people in the company. I am convinced that with the support of our Board and Chairman, Hariolf Kottmann, we will continue on our successful path. We have certain goals: By 2021, we want to achieve sales of around 9 billion Swiss francs, an EBITDA margin after exceptional items in the order of 20%, an operational cash flow of more than 1.2 billion Swiss francs, and an ROIC after exceptional items of more than 10%. If we stay focused on our customers, on operational efficiency, and on excellence in execution, I'm sure we can realize the full potential of this great company – to the benefit of everyone: to our customers, who value fast and reliable service, to our employees, who appreciate a safe and motivating working environment, to our shareholders, who delight in increased dividends and shareholder value, and to society as a whole, which pushes for sustainable development.