Driving Clariant to Its Full Potential and Focusing on Sustainability and Innovation
You joined Clariant on 1 January 2021. What is your impression so far?
I have found talented and committed colleagues who have been successful in building the core capabilities that are needed to become a truly leading specialty chemicals company. Commercial excellence, excellence in innovation, and excellence in operations have been, and will continue to be, important priorities. Clariant's transformation of the company towards a multispecialty company has impressed me a lot. Clariant has been disciplined and successful in reshaping its portfolio from a diversified, in parts commodity-driven, businesses into a focused, specialty chemicals portfolio.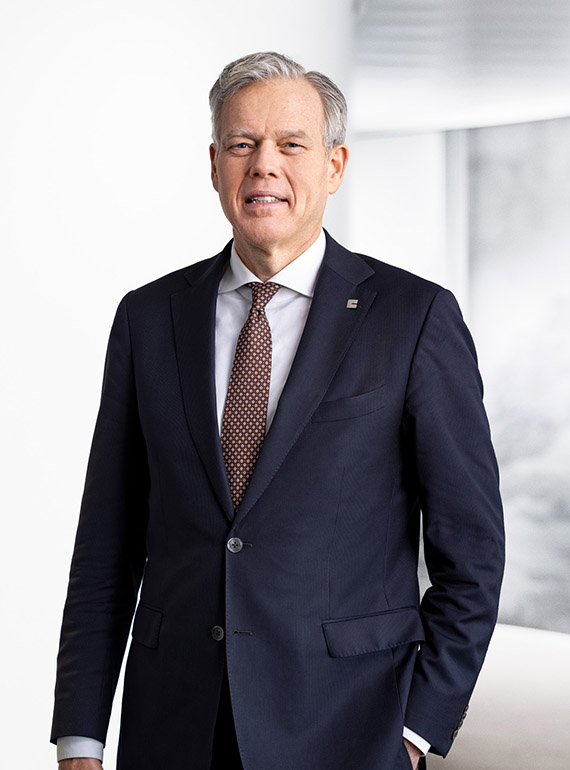 What can you say about the culture of the company?
The company has a unique culture of teamwork that is based on strong values of integrity. This culture and these values resonate well with my own values. Therefore, it is a great privilege for me to be with Clariant.
How much has Clariant suffered from the COVID-19 pandemic?
The first priority for the company has been the safety of our people and we have taken the right measures to mitigate the risks caused by COVID-19 early on. We had no outbreaks at our sites, even though we do have operations in some areas that have been heavily affected by the pandemic. Thanks to the commitment and discipline of our frontline colleagues in operations, Clariant has been able to keep its sites up and running and was able to keep supplying products to our customers.
Does your positive view on the company also apply to the financial results?
Clariant has delivered a solid financial performance under challenging conditions. Our sales in 2020 decreased by 5% in local currency, and we saw a recovery in the fourth quarter with a year-on-year revenue decline of 2% in local currency. We are still facing challenges in the oil and aviation markets, but most of our businesses are recovering to their pre-COVID levels. Overall, we largely maintained our profitability due to effective margin and cost management. Our EBITDA margin ended at 15.0% in 2020 compared to 15.7% in 2019. Like for like, Clariant improved its operating cash flow, helped by better working capital management with a specific focus on inventory and receivables management.
What progress has been made with the execution of the strategy?
Clariant continued to execute its strategy with the successful divestment of Masterbatches. Our shareholders shared in this success through the extraordinary distribution of 3.00 Swiss francs that was paid on 8 July 2020.
At the same time, Clariant continued to invest in growth, including our new Licocene® production plant in Frankfurt, Germany; our new catalyst plant in Zhejiang Province, China; our new bioethanol plant in Podari, Romania; and our new »One Clariant Campus« in Shanghai, China.
After the divestment of Healthcare Packaging and Masterbatches, Clariant has become significantly smaller. How do you deal with the situation?
Divesting the Healthcare Packaging and Masterbatches business will allow us to focus on our three core Business Areas: Care Chemicals, Catalysis, and Natural Resources. It is now our exciting challenge to drive these businesses to their full potential in terms of growth and profitability. With the completed divestments and the upcoming sale of Pigments, we will become a smaller company, and this means in the short term we have to adapt our organization to avoid remnant cost. The program for this is currently being implemented and is progressing well.
You mentioned the challenging market environment. Do you see signs of hope as well? And where do you see this evidence?
Clariant is well positioned for the recovery when life will return to normal after the COVID-19 pandemic. It is our ambition to emerge from this crisis as a stronger company. In Care Chemicals, we expect last year's growth – excluding the aviation business – to continue since our offerings meet an increasing demand from customers for more sustainable ingredients.
Does that apply to other Business Areas as well?
For the Business Area Catalysis, we are laying the foundation for accelerated growth in China with the new catalyst site I mentioned before. Also our sunliquid® technology to produce second-generation biofuels positions us well to capture the promising business growth opportunities in this sector. The fact that we have signed five license agreements, two of them in China, until February 2021, is a clear proof point for our approach. We support our customers in their decarbonization efforts and benefit from the fact that regulatory mandates for advanced biofuels have already been established in many countries.
Does the outlook for Natural Resources remain challenging?
In Natural Resources, specifically for our Oil and Mining Services, we anticipate continued headwinds for our Oil Services business, but we have seen a clear pickup in mining activity. Our Additives business has already shown a strong pickup in demand in the fourth quarter of 2020 and will continue to benefit from sustainable and innovative products like our »Vita«-labeled bio-additives solutions or Exolit® OP flame retardants, to mention only two examples. Our innovative product portfolio of our Functional Minerals business is perfectly set to cater to the fast-growing demand for purification of renewable fuels around the globe.
Does our current strategy still serve Clariant's ambitions?
Clariant has developed five pillars that will drive the company to become a leading specialty chemicals company.
Research and innovation will remain important as it enables us to develop and offer differentiated products that deliver true value to our customers.
Sustainability becomes even more important, and Clariant rightfully has positioned sustainability as a key driver for innovation. It is our objective to develop differentiated products that make our customers more sustainable.
Clariant has been successfully repositioning itself towards a true specialty chemicals company.
We will focus on strengthening our existing core market positions, and here we would like to outgrow our markets. We will continue to focus on growth in Asia. Local capability building, especially in China, will remain a high priority.
And finally, our leading market positions should indeed deliver leading financial performance, both in terms of growth and profitability.
Which role does sustainability play in this context?
Clariant has been one of the early adopters of sustainability, with its commitment to contribute to the United Nations' Sustainable Development Goals (SDGs). It is important to see that sustainability is becoming a true global priority with the European Green Deal, China's commitment to climate neutrality by 2060, and the return of the USA to the Paris Climate Agreement.
Climate change has been widely recognized as one of the biggest challenges of our century – and Clariant is certainly part of the solution.
Talking about society and politics – what is the impact on Clariant?
Clariant has adopted a clear ESG framework. We have defined Environmental, Social, and Governance targets and criteria that will drive progress in all three areas. We have increased and expanded our ambitions with regard to climate change: We have increased our existing Scope 1 & 2 targets to a reduction of 40% for absolute emissions by 2030, compared to the base year 2019. For Scope 3, we have introduced a new target, aiming at a reduction of emissions of 14% by 2030, compared to the base year 2019.
We support the Responsible Care™ Charter, which is important for our industry, and commit to the United Nations Global Compact. Clariant evaluates the impact of its business activities in relation to the United Nations' SDGs. We do this by reviewing the positive and negative impacts of our products and services, operations, value chain, corporate citizenship activities, and collaborations. We are a member of various sustainability initiatives, such as the World Business Council for Sustainable Development (WBCSD) and »Together for Sustainability.« Clariant has also been part of several well-known sustainability indices, such as the MSCI World ESG Leaders Index. We were included as one of the top companies for the eighth consecutive year in the reputable Dow Jones Sustainability Index. This index benchmarks the sustainability performance of leading companies in environmental, social, and economic terms. In 2020, Clariant was also awarded the SAM Bronze Class award for the fifth consecutive year for its sustainability performance.
What is your perspective on the »New Green Deal«, which aims to make Europe climate-neutral by 2050?
The European Green Deal Investment Plan (EGDIP) is the investment pillar of the Green Deal. To achieve the goals set by the European Green Deal, 25%, that is, 250 billion Euros, of the EU budget over the next seven years is dedicated to investments in environmental objectives. There will be winners and losers. I believe Clariant can and will be among the winners since we have been one of the early adopters of this trend for many years.
What are your plans in detail?
Our targets are currently being translated into specific business activities and projects. This will require more innovations but also new partnerships. One example here is our partnership with Plant Advanced Technologies (PAT). Together, we are able to address premium cosmetic markets looking for sustainable natural sourcing thanks to the »Premium Root Power« label. It is our ultimate goal to enable our customers to strengthen their sustainability profile and achieve their targets – and our solutions can be a big driver here.
Conrad, thank you very much for your time, and we wish you lots of success in your new role.
Thank you, Kai, we have work to do, and the COVID-19 pandemic is not over yet. But we have clear opportunities and are addressing them with focus and energy.
The interview was conducted by Kai Rolker, Head Group Communications, Clariant