Accepting Challenges

Shaping the

New Normal
Scroll for more
How Clariant took on the challenges of the global pandemic
COVID-19 and the measures to contain it have deeply affected people, businesses, and entire countries across the globe. The virus presented a fundamental challenge to our ways of life and doing business. Clariant and its employees have found safe and creative ways to deal with it.
From new forms of collaboration to safe ways of delivering services and products
Six changemakers at Clariant tell their story. How did they keep each other safe? How could they collaborate, maintain relationships, and keep driving innovation? How did they support each other and their communities?
A challenge unlike any other
No event in recent memory has impacted so many lives as directly and profoundly as the global COVID-19 pandemic did in 2020. Since its first appearance in late 2019, the new coronavirus has infected over 75 million people worldwide by the end of 2020. Both the virus and some of the measures to contain it have called into question many aspects of our modern way of life. From social distancing to travel restrictions to strict lockdown orders – COVID-19 has dominated how we lead our lives, how we work, and how we interact. Entire industries have seen their business models upended. Countless businesses and families have fallen on hard times. Health and welfare systems are stretched to their limits.
Development of Covid worldwide

The new coronavirus has infected over 75 million people worldwide by the end of 2020
Faced with these challenges, however, people around the world have also reacted with kindness and ingenuity. We have found new ways to communicate, to work, and to keep each other safe. Science and technology have helped immensely, and not only by creating and producing a number of entirely new vaccines in record time, which may eventually put an end to the pandemic. More quickly than ever, we have adopted new digital tools that help us maintain businesses and relationships. As we all hope and prepare for a postpandemic world, it is worth looking at what we have learned and how the changes we have made may shape our lives long after the pandemic has ended.
Health & Safety
Monica Ferreira
Region Head Latin America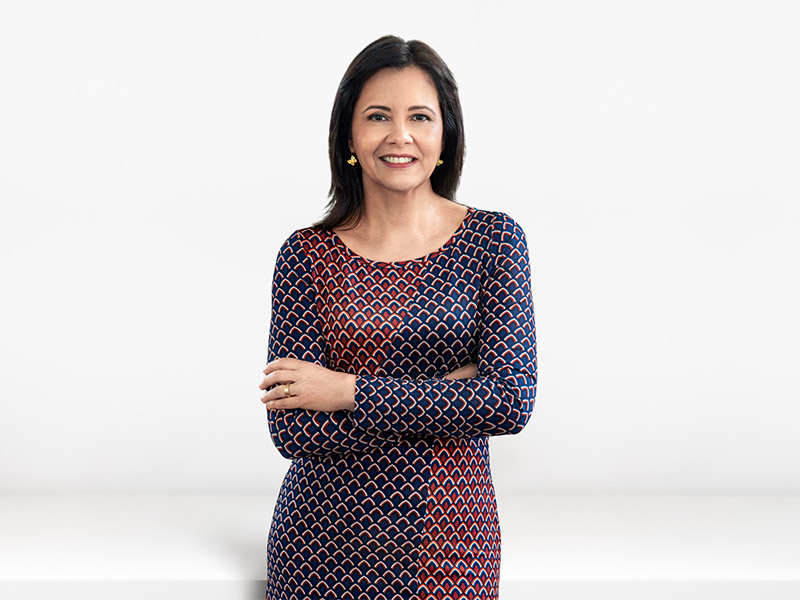 »Thanks to strong teamwork and the commitment of our employees, we were able to prepare ourselves and face the challenges imposed by the pandemic,« says Monica Ferreira, Clariant's Region Head for Latin America in 2020.
Asia and Europe had seen the impact of the pandemic one or two months earlier. By working with the headquarters in Switzerland and learning from teams in other regions, Ferreira and the Latin American team had a head start to implement their region's response. One of the first measures was to define frontline functions and others that could be performed remotely. For frontline functions, which include most jobs closely linked to production and laboratories, Clariant implemented strict protocols and procedures to prevent infections. Everyone else was to work from home almost immediately. »Within less than a week, we set up about 30 percent of our regional workforce to work remotely,« Ferreira says. »It helped that we already had most of the necessary equipment and infrastructure in place. Our work and investment over the last couple of years truly paid off.«
Remote working

of the regional workforce was set up to work from home within less than a week
First and foremost, Ferreira credits her teams across all seven Latin American countries Clariant operates in. »Their extraordinary level of engagement is what kept business moving. That includes the ongoing support to our customers and establishing new communication channels with them, such as webinars and online events,« she says. »In all of these months working from home, and with controlled operations at the sites, we remained resilient, delivering results and minimizing the effects of the crisis.«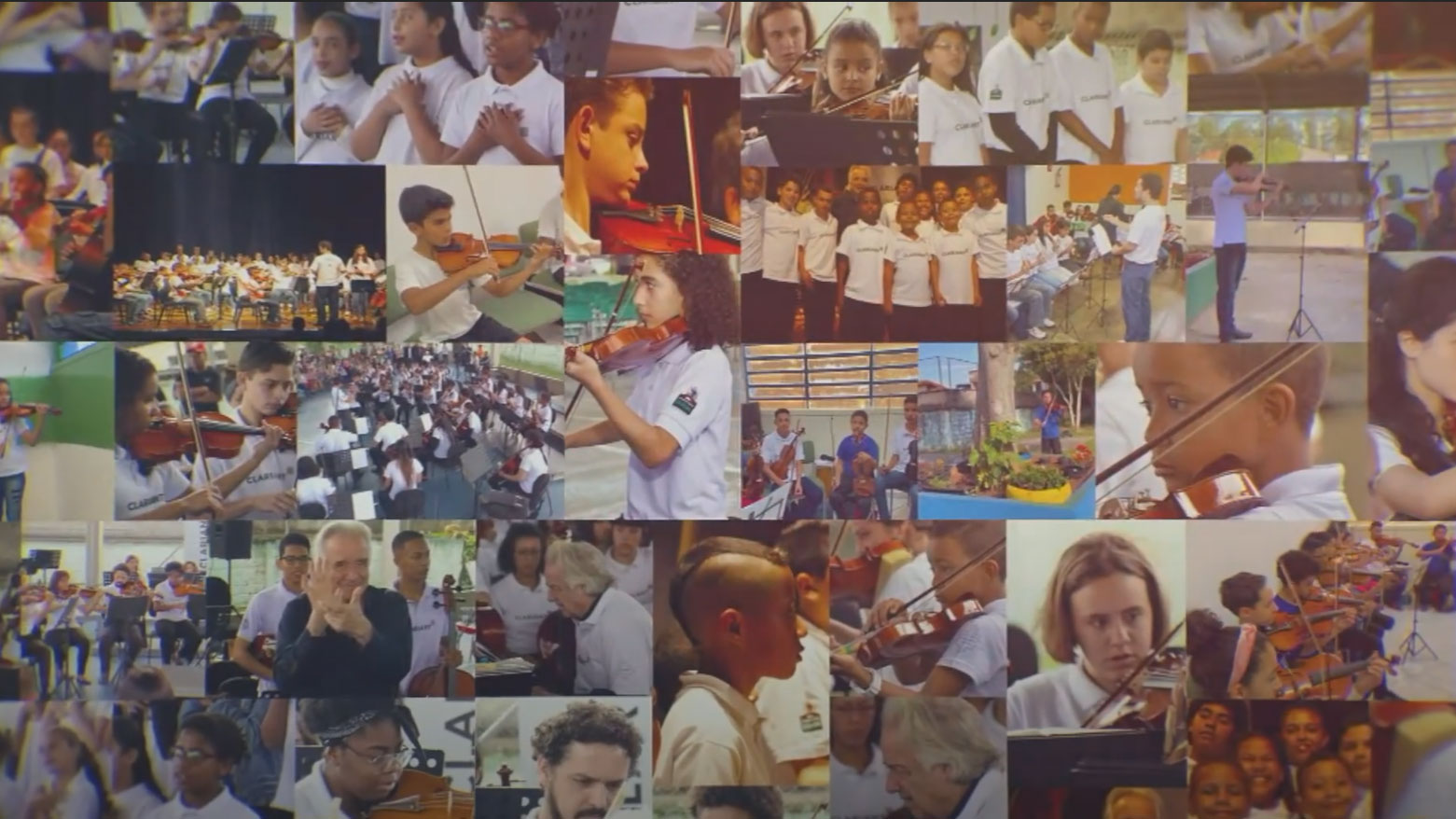 Communication was an essential pillar of Ferreira's strategy. She worked with communications staff as well as regional and local ESHA and Emergency Teams to ensure that safety protocols were implemented and to raise awareness of the risks associated with COVID-19 outside of work.
»We organized regular online dialog sessions with employees and produced extensive guideline materials,« Ferreira says. The company promoted webinars with doctors answering questions about COVID-19 from employees and their families. This is part of a more holistic approach that Ferreira encouraged early on: »Keeping employees healthy is about more than just shielding them from infection,« she says. »We organized webinars with psychologists and offered online counseling to our employees and their family members.« There were also online sessions on physical activity, nutrition, and ergonomics, chronic disease prevention, and specific health issues. »Nobody knew how long this health crisis would last,« Ferreira remembers. »All we knew was that we wanted to prepare our people to manage the new situation as best we could.«
Corporate Social Responsibility
Keeping hope alive
Throughout the pandemic, Clariant has worked with local communities at all of its sites, for example, by donating protective equipment to local health professionals and food baskets to people in need. The Music Won, a social music project in the city of Suzano, Brazil, which Clariant has been supporting for the last 10 years, was able to carry on with classes for youths and children by going online. Plus, Clariant organized events to share its message of hope and solidarity:
15 000
A live-stream concert by the students reached nearly 15 000 people
Long-term relationships
Wolf Spaether
Head of Market Segment Styrene / MTP, Business Unit Catalysts
We were not even two weeks into 2020 when Wolf Spaether realized this year would be very different. He had left China just days before the first cities went into lockdown because of what would later be known as COVID-19.
»One of our biggest customers called me,« Spaether remembers. »He was worried about whether I'd be back to accompany our local sales team for their annual business discussions.« As Clariant's Head of Market Segment Styrene and Methanol-to-propylene (MTP) catalysts, Spaether typically visits key customers regularly throughout the year. In more than a decade, Spaether has never missed one such meeting. »These negotiations are a delicate dance that our Chinese team has perfected over the years,« Spaether explains. »It is all about trust and a personal connection. While my presence is mostly ceremonial, it is an important sign of respect to our customers in China.«
Each deal takes several face-to-face rounds of intense local negotiations, which can last days. »These are the most important rounds, and both sides carefully prepare for weeks,« says Kevin Chan, Head of Clariant Catalysts China. »We not only prepare our offer but also try to anticipate any questions and information requirements the customer might have.« Despite COVID-19 and its impact on demand, the customer awarded Clariant Catalysts with a full-scale contract, given the good relationship and positive experience. »The key is to leave the negotiation table with winners on both sides,« Chan says. »You want to return with an attractive deal and, at the same time, with a pleased customer who is looking forward to future collaboration.«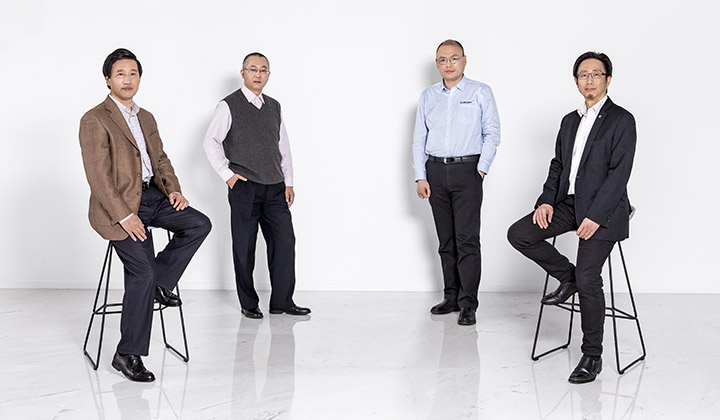 Virtual Customer Event
Aleksander Kurkowski
Business Development Manager, Business Unit Industrial & Consumer Specialties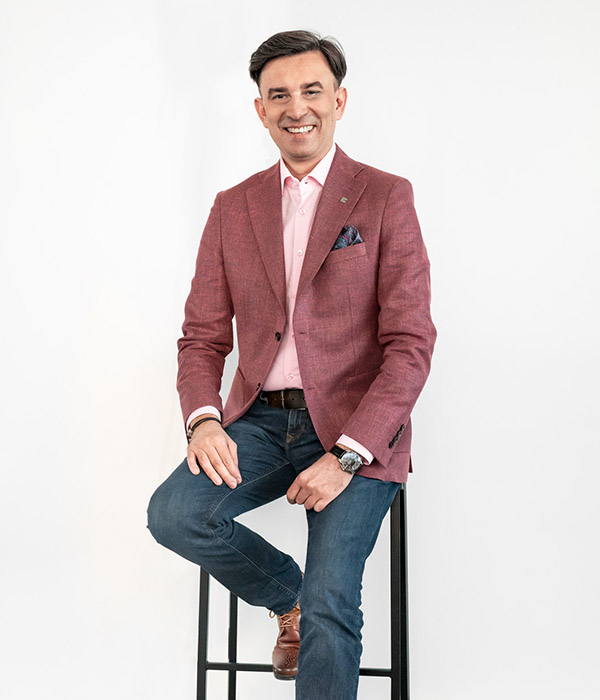 »My colleagues said I could easily get a job as a weatherman on TV,« jokes Aleksander Kurkowski. He much prefers his current job as business development manager for paints and coatings at Clariant's Industrial & Consumer Specialties Business Unit.
However, 2020 forced him to add a few skills. In any other year, Kurkowski spends most of his workdays visiting research facilities, potential customers, industry conferences, and trade fairs. »In 2019 alone, I took a total of 62 flights across Europe and the Middle East,« Kurkowski explains. But 2020 was different.
For much of last year, Kurkowski was grounded. Travel restrictions meant he had to do his job from his office in Warsaw, Poland. »That is challenging, to put it mildly,« says Kurkowski. With over 20 years of experience, he is used to working very closely with customers on new paint and coating solutions. »I may be old-fashioned, but it helps to look at the same colorant sample, to discuss a problem face-to-face, and to brainstorm solutions in the lab together. It's just not as easy via e-mail,« Kurkowski explains. One of his favorite formats is inviting customers – or rather their R&D people – for demonstrations and R&D sessions at Clariant's own labs. »I find that stepping out of our day-to-day work environment actually frees us up to be even more creative,« he says.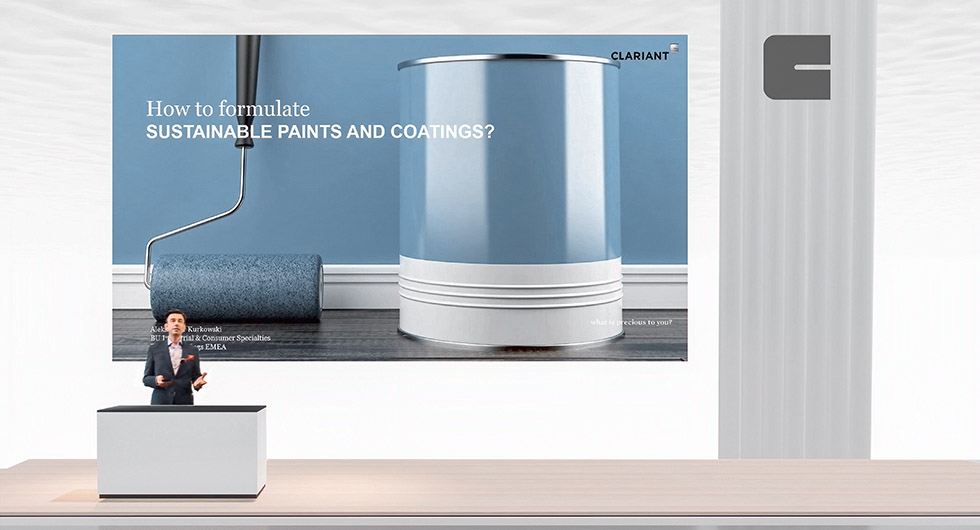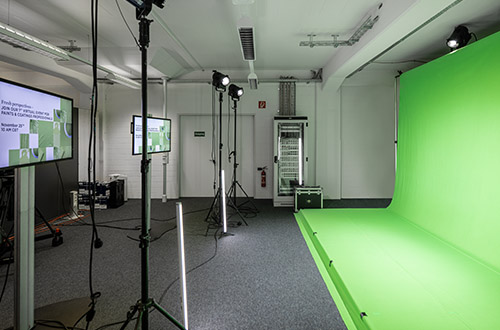 COVID-19 forced Kurkowski and his team to find different ways of engaging with customers.
»We worked for months on our first truly live virtual customer event,« Kurkowski says, making sure not to call it a webinar. »Those are boring. We wanted to do something different.« Instead, Clariant set up three different green-screen studios in Poland, Germany, and Switzerland. Customers were free to drop in on different live presentations on current technology and product topics like, for example, how to formulate sustainable paints and coatings. They could interact with the presenters by sending personal questions via a chat window or by answering poll questions. Over 200 people from all over the world took part.
Standing in the Łódź office, Kurkowski interacted both with his virtual audience and with his colleagues at the Clariant Innovation Center in Frankfurt, Germany, and Clariant's headquarters in Muttenz, Switzerland. »I'd never been so nervous before a presentation,« he admits. After all, it wasn't just the audience watching. »It felt like the whole company was watching. To see if it would work. If this could be a model for future events – even after the pandemic. I think we proved it could be. This platform has great potential.«
Watch a recording
Worldwide audience
people from all over the world took part
Collaboration
Rashod Smith
Application Scientist for the Global Flow Assurance Team, Business Unit Oil and Mining Services
»Our job is to keep things flowing,« says Rashod Smith. It is literally in the name: Smith is an application scientist in the Global Flow Assurance Team.
He is based in The Woodlands, Texas, and part of the global innovation team for OMS, Clariant's Oil and Mining Services Business Unit. OMS products and Smith's research are invaluable to oil drilling. »We deal in paraffin or wax remediation,« Smith explains. »Essentially, we help ensure the crude oil travels safely from the wellbore to the refinery.«
When the pandemic hit Texas back in March of 2020, Smith and his team were dealing with an urgent request from one of Clariant's largest customers. »They had problems at a site in Asia, and we had to find a solution quickly,« Smith remembers. »We collaborate with our colleagues in Malaysia and Germany, but for an assignment like this, I'd usually fly out to the customer to work on a fix,« says Smith. However, because of COVID-19, Smith could not leave Texas. He could not even make full use of his lab in The Woodlands.
»Office staff was working from home, and we had new restrictions in place that limited the amount of people in the lab at any time,« Smith explains. That meant he and his closest collaborators, such as senior chemist Brad Dufresne, had to find new ways of working together. They rotated lab hours to fit each other's schedules. Both Smith and Brad Dufresne have kids that needed to be homeschooled at the time. Plus, Smith's wife was expecting twins. »Life at home was stressful for all of us,« Smith remembers. »Brad and I talked about that openly. He had my back, and I had his.« Dufresne did early shifts. Smith worked late. Both pitched in on weekends. In order to work together on the same tests without ever meeting, they came up with new ways of sharing work and data – also with their colleagues in Germany and Malaysia. For example, they standardized self-explanatory spreadsheets and visual references to better compare lab results.
»Once you're forced to take a step back and reflect on the process like this, you are bound to come up with better solutions.«
Smith and his team not only made it work and found a fix for the customer, they actually streamlined the innovation process itself along the way. »Once you're forced to take a step back and reflect on the process like this, you are bound to come up with better solutions,« he says. »For a task that usually took eight steps, we found ways to achieve the same result in just two.« The results are much shorter turnaround times and improved workflows overall. »We've grown together as a team,« says Smith. »We're just a lot more flexible in the way we work, which makes our work a lot easier. And will continue to operate that way long after COVID-19.«
Spontaneous production of disinfectants
Andreas Fischbach
Head of Operations EMEA and Site Manager Gendorf, Business Unit Industrial and Consumer Specialties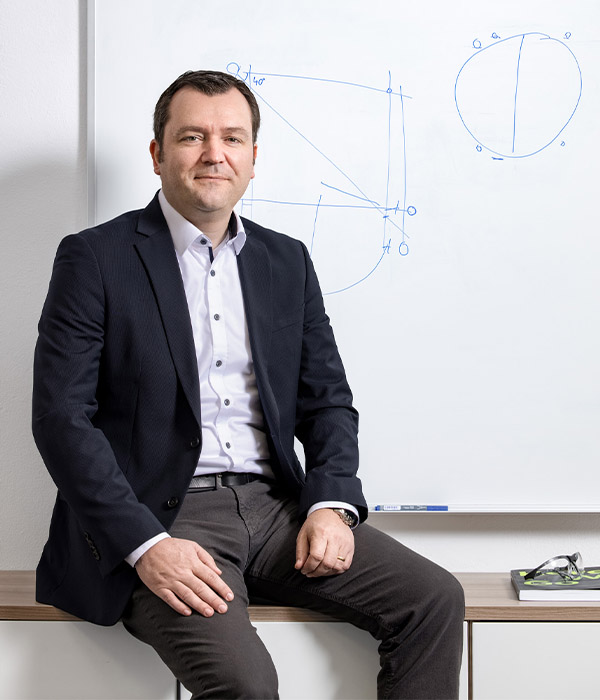 It all started with the run-up to the local elections in Bavaria. »Back in February, our district administrator contacted us to ask whether we could provide hand sanitizer,« remembers Andreas Fischbach, site manager in Gendorf, Germany, and Head of Operations for the production sites in Europe, Middle East, and Africa of Clariant's Business Unit Industrial and Consumer Specialties.
»The pandemic hadn't truly hit Germany yet, but they were taking extra precautions.« In order to keep voters and staff safe, officials were desperate to provide sanitizer for polling stations. Shelves were already empty. Suppliers couldn't keep up with demand. »We don't usually produce hand sanitizer, but we had the basic ingredients on-site,« says Fischbach. This meant that Clariant could mix and deliver an initial batch of about 800 liters in time for the election, free of charge. It was only the beginning.
Within days, state officials had gotten wind of the story. They were setting up a statewide distribution center for supplies needed during the pandemic. »Our next two batches were 16 000 and 48 000 liters,« Fischbach says. By that time, his suppliers were running short of the necessary isopropyl alcohol. However, the World Health Organization (WHO) had issued a recommended alternate recipe using ethanol. Fischbach's team managed to secure a supply of bioethanol from Clariant's sunliquid® pilot plant near Munich, and state authorities had granted the temporary tax exemption necessary for using nondenatured alcohol.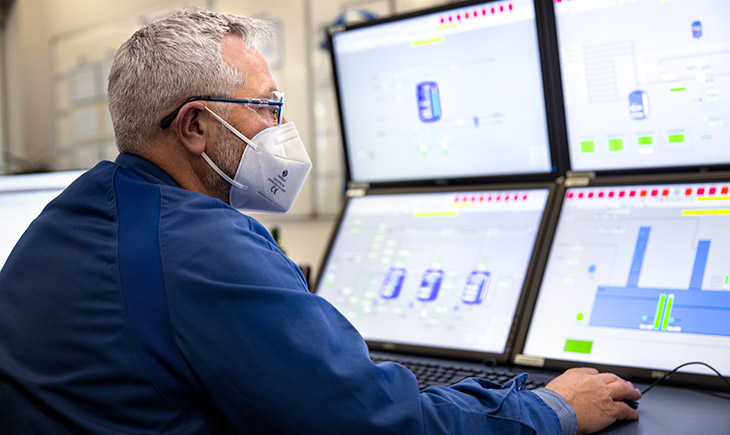 When the call came to produce up to ten million liters over the coming months, Clariant reached out to its industry partners.
»We needed to build a complete supply chain – alongside our day-to-day business – for a product we don't have any business in, and which we were selling at a net cost,« Fischbach explains. Together with a large ethanol supplier and a packaging firm, Clariant made it happen. In total, Fischbach's team was able to supply close to three million liters of hand sanitizer during the first wave of the pandemic. By then, regular suppliers had ramped up production enough to tackle the demand. »I'm proud of this exceptional team effort,« Fischbach says. »It was heartening to see people chip in like that. Our team, state officials, regulators, our suppliers, and everyone involved in the logistics – it's just amazing how they all rose to meet such a challenge.«
Making it happen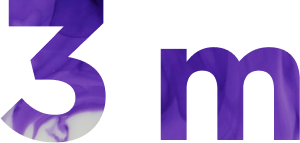 liters of hand sanitizer were supplied during the first wave of the pandemic
3 questions
Hans Bohnen
Global Emergency Management Director, Member of the Executive Committee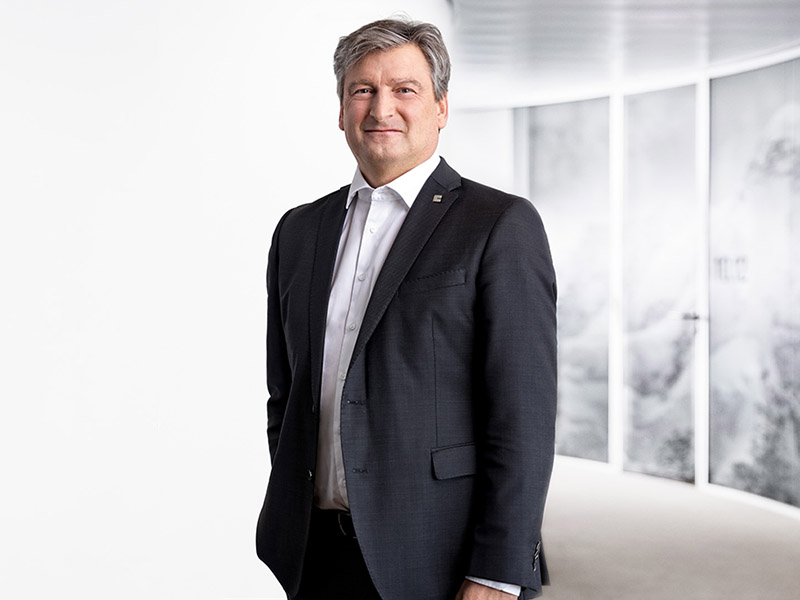 COVID-19 has dominated businesses and much of our lives in the past year. With 2020 behind us, how do you see Clariant's response to the pandemic so far?

Keeping our employees safe was our first and remains our biggest concern. We responded early, working closely with authorities and our Emergency Management teams on the ground, to manage the situation and ensure the safety of our employees. It's been tough, and we've had setbacks, no question. But I am incredibly thankful and proud of how our teams across the globe have handled this crisis so far. We are not in the clear yet. As we speak, the first vaccinations have started in some countries. But in many parts of the world, infection rates are still rising. We need to stay vigilant.

What has the pandemic and the response taught you?

We've found ways of maintaining our businesses while still keeping everyone as safe as possible. In the process, this pandemic has taught us a lot about our way of working. In a sense, the crisis acted as a catalyst for change. It has forced us to re-examine some of the processes and structures in our day-to-day work. Our teams found more flexible and streamlined forms of collaborating with colleagues, customers, and suppliers. Unsurprisingly, digitalization helped. Adopting digital tools is nothing new to Clariant. But the speed and flexibility with which we've embraced this change still astound me.

How do you see this collective experience shaping Clariant's future?

It's too early to say. As I mentioned, the pandemic is still far from over. But COVID-19 has undoubtedly accelerated a transformation that had been going on for some time. We've focused on applying digital technologies to our operations and production facilities before, and we have increased our efforts in 2020. I don't see those trends being reversed in the future. We are still in the process of reviewing how the changes we've made may transform Clariant and, in fact, our entire industry long-term. But to me, there's no question that we will make use of what we've learned, and improve how we run our day-to-day activities.